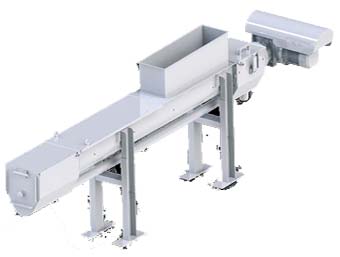 SCREW CONVEYOR: SEFT S.R.L. DESIGNS SCREW CONVEYORS THAT CAN BECUSTOMIZABLE. THE SEFT SCREW CONVEYOR IS EQUIPPED WITH A WIDE RANGE OF ACCESSORIES DEPENDING ON MODEL.
The screw conveyor allows for the easy transfer of solid and semi-solid materials.
This machine, which SEFT provides with shaft or shaftless, has a wide range of inclinations and is also available in the vertical version, with shaft or shaftless.
The screw spiral can be in AISI 304, 316 stainless steel or high-resistant carbon steel, with various types of pitch and thickness of the augers. In addition, the SEFT screw conveyor can be equipped with various accessories (also customized directly according to the customer's design), depending on the model. For example, it can be composed of an inner shaftless auger that rotates inside a trough (tubular or with U-section), with one or more loading hoppers and one or more discharge spouts, or it can be composed of a spiral with central shaft which, by direct connection to the motor, allows it to rotate inside a tube.
Both TSA e TCA screw conveyor models are SEFT-guaranteed products therefore precise, long lasting and technologically advanced.